(start a rumor monday...) wednesday edition

news briefs (or boxers, your choice)

y'all voted, it was a tie
jonathan plummer catches the gay...summer m. loses hers.

san francisco, ca.--
a week after news sources revealed that niggafied lit icon, terry mcmillan had lost her groove due to the gay epidemic spreading around the country like wild fire (especially in parts of northern california), more bad news is coming her way. just days after media throughout the country reported the break-up of mcmillan's six year marriage to jonathan plummer, 23 years younger and the inspiration for the book and movie,
how stella got her groove
back
,
in a much less publicized story, blogger and shit talker extraordinaire summer m. is also suing terry mcmillan for what her law student representative is calling, 'crimes against her [client's] sexuality.'
'ms. mcmillan slept with summer m. to prove once and for all that she was not homophobic, as her soon-to-be ex-husband, jonathan plummer
has alleged in his lawsuit against her
.' the poor black graduate student's representative stated. 'as a result, summer m. claims that the experience traumatized her so badly that she is no longer a lesbian, but is in fact, and i quote, "straighter than the light saber stuck up george lucas's white ass."' she went on to read her client's own statement to the public:
"jonathan plummer is not a golddigger. he's a [bleeping] saint. believe me, if i were him, i'da pulled a disappearing act on their wedding night. i agreed to sleep with terry mcmillan because she promised to pay for my lasik eye surgery. but one look at those 53 year old breasts, and my mouth got dry--literally. i gasped, but it seemed like forever before i exhaled. all i know is if i was a guy and had to sleep with her for six years, i'd be gay, too. now excuse me while i go get dicked down by pimpin khem**.
no word yet if summer m. will appear in court during the plummer/mcmillan divorce proceedings. but plummer is in talks to star in
diary of a mad black gay dude
to be written and produced by
tyler perry
. (oh, c'mon, now. they're JUST friends.)
**for those of you who don't know and/or are newcomers to this thang here, pimpin' khem allegedly tried to fuck me after i told him i liked girls, AND after he revealed to me that he was married with two kids (daughters, the same age) both by two different women--neither of whom were his wife. for more info,
go here
.

boogieman, other monsters sue kels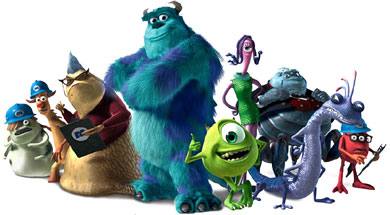 chicago, il--
working off the momentum of unlikely hit(s), 'trapped in the closet parts 1-752,' r. kelly released tp.3 reloaded, his 8th solo effort. though 30 charges of child pornography (among other things) hasn't seemed to slow his artistic production down, it seems a few imaginary friends might.
found occasionally under the beds of children, the boogie man and other members of his rap crew are feeling more than trapped in the closet these days. in fact, they're angry, and feeling betrayed. in their recent lawsuit against r&b crooner, r. kelly, the boogieman (known affectionately and in hip hop circles as boogs) and his crew claim that the idea for r. kelly's 5 part saga, 'trapped in the closet' (playing on an urban radio station near you) was initially their idea. other monster in the closet and fellow crew member, boo, had this to say about the matter:
'first we was kinda skeptical, you know? i mean, what the hell is a grown ass nigga doing in a little girl's closet? then we saw it was kels and we knew why. he said he had come there for artistic inspiration or some shit, so we was like, "cool, can we be down?" me, boogs, and the crew have been trying to get on for years. we rapped for him. whatever whatever. so he [kels] was like "cool."' boo continued, 'so while that nigga kels was hanging with us, my nigga boogs comes up with this idea. he came at us like, "what if we wrote some shit about being trapped in this closet, you know, the struggles of being a monster stuck in this lifestyle and shit?" so me and kels was like "cool." so we start vibin' and shit--freestyling, ciphering, whatever. and then i was like, "what if we made this shit like a saga, you know?
rocky
got five parts, we should make our shit five parts."
so boogs and kels was like "cool." anyway, next thing i know, we watching bet while the lil girl was at school or whatever, and this nigga kels done came out wit' a song called 'trapped in the closet.' so me and boogs was like, [no, not "cool"] "what the fuck?" first we was shitty because that was our title, our idea, whatever whatever. and then this nigga had the nerve to turn it into some gay shit? we peeped the writing credits and shit on
allmusic
and saw that this nigga ain't even bother to thank us for holding him down while he was in here wit us. so we was like shitty, whatever whatever. boogs was like, "yo, boo, we need a lawyer." so we called one up, told him our story, and he was like, "cool. i think you got a case." so now we doing this legal shit, trying to get our reparations and shit.
'don't you mean royalties?'
'whatever.'
'cool.'
r. kelly has yet to comment.
cruise po' pimpin' at the bet awards
los angeles, ca--
showing up to give his main nig, jamie foxx the bet award for best male actor (because, according to insiders, 'if any other nigger wins this goddamn award and i have to shake his hand, i will jump on your fucking face the way i jumped on oprah's couch.'),
war of the worlds
star, tom cruise got in a bit of a scuffle with snoop dogg and the bishop magic don juan backstage.**
according to sources, the doggfather and the bishop got physical with cruise after he told both of them that they 'ain't know shit about pimpin'. pimpology is a pseudoscience meant to a make the societally disadvantaged and emasculated black male feel empowered.' cruise concluded, 'all you need is some vitamins, some s-c-i-e-n-tology and logically you'll be learning them hoes biology, and obviously well.'**
a stagehand repeated what she saw and heard after cruise laughed and walked away, signally he was done with the two. 'all i know is i heard snoop yell, "who the fuck does this crackizzle think i am? cuba gooding?" then he and the bishop ran after him. luckily, jada [pinkett smith] was there to stop it all. i don't know where will [smith] was.** i think i heard something about
ali
just being a movie role.'
despite the physical altercation, cruise went on with his insults during after-show interviews. he told bet news reporters, 'what do you know about black people? i know robert deniro. personally. i hang out with jamie foxx. i just found out my son is biracial. which means he's part black. i'm pretty sure that's what oprah said--that he's part black. and he's just...my son. i love him. because...he's...my son. i know black people. i know their history. i saw
roots
. i even call katie holmes my bitch. it's just me and her, you know? me and my bitch.'
though cruise had only minor injuries, and was not squirted in the face during the interview with a fake microphone, r. kelly did pee on him. allegedly.
**
the bishop don magic juan is a famous chicago pimp known to many by his appearances in the music videos of hip hop artists such as snoop dogg and 50 cent.
**
these are lyrics from the legendary hip hop song, 'po' pimpin'' by chicago rap group, do or die.
language alone protects us from the scariness of things with no names. language alone is meditation. ~toni morrison